Overview (see details below)

Tuesday, July 8th
18:00: ICE BREAKER RECEPTION

Wednesday, July 9th
18:30 VISIT OF THE MUSEUM OF MINERALOGY
19:30 SECOND 5K GEOENV RACE (JARDIN DU LUXEMBOURG)

Thursday, July 10th
17:30 VISIT OF THE MUSEUM OF MINERALOGY
19:30-00:00 GALA DINNER (BATEAUX MOUCHES ON THE SEINE RIVER)

Second 5km race
The 5km race will be organized within the Jardin du Luxembourg, just outside the conference venue. Don't forget your running shoes!

Museum of Mineralogy
Guided visits of the Museum of Mineralogy will be possible. The Museum, located at the conference venue in the former Hôtel de Vendôme since 1815, ranks as the top collection in the world and serves as a constant reference for systematic mineralogy. Its specific activities are centred on its collections and stands as a milestone in mineralogical history.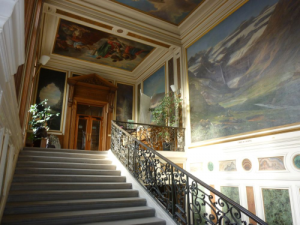 Conference dinner
The conference dinner will take place on the famous Bateaux-Mouches on the Seine River.